Summer 2016 12-Day Drama Training and Performance Intensive in Seattle, WA.

Classes and workshops in Acting, Movement, Stage Combat, Physical Comedy and Voice for young performers 14 – 19 years old are taught by professional actors, directors and choreographers who also work at such places as UW, Cornish College for the Arts and Seattle Children's Theatre. Our summer intensives have been held in locations all over the US and UK since 1990, and many of our alums have gone on to successful professional performance careers. We are not necessarily looking for "future stars" when choosing participants for our summer ensembles — we want to work with enthusiastic, hard-working young people who know that this type of intensive and close-knit ensemble training experience will build self-confidence physical, verbal and imaginative skills that will help them in whatever they do in school and Life. As we say, "Drama training is training for Life." We will work hard, play hard and have LOTS of fun! APPLY NOW
Classes and rehearsals will run 9AM-4:00PM Monday – Friday, with a lunch break. In addition to the regular daily schedule, there will be a "Special Event" day on Saturday, August 6, a day off on August 7 and an end-of-program dinner/party. The program will culminate with performances at the Black Box Theatre at Bothell High and one other Seattle-area venue. Housing for out-of-town participants will be with host families. Whenever possible, we place out-of-town participants with local program participants.
Discounted 2016 Tuition is $975 for the entire program, with further scholarships and financial aid for NSD students available. We accept applicants based on talent and motivation, NOT on ability to pay.
Feedback from previous BAYFESTers can be found on our website at: BAYFESTyouthTheatre.org/summer-intensive/testimonials
ABOUT BAYFEST INTERNATIONAL SUMMER INTENSIVE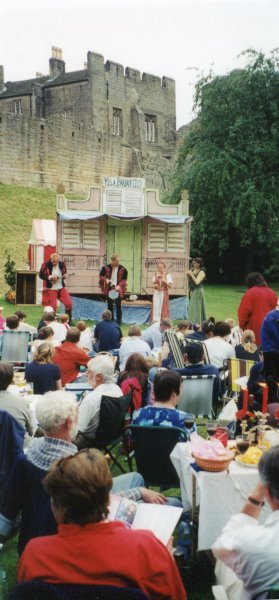 Since 1990, the BAYFEST International Summer Program has provided professional-level theatre training and cultural enrichment to groups of talented young performers, aged 14 – 21, from all over the United States, Great Britain, Canada, and elsewhere.
The Summer Program has been held in locations as varied as New York, London, Washington, DC, Vermont, Seattle, Newcastle on Tyne, North Wales, Los Angeles, and Sandpoint, Idaho.
Participants have come from the widest possible range of social and cultural backgrounds; many with scholarship assistance.
They have lived in each others' homes; they have worked long hours rehearsing and performing productions from Shakespeare to musicals; they have laughed and cried with each other and the BAYFEST staff and teachers…
… and in many cases, they say their lives have been changed.
For more information, join our growing community on Facebook!