Summer 2013
Eleven participants were chosen by audition for the Summer 2013 program, which was held from July 11 – August 3 in San Diego, California where BAYFEST was previously in residence in Summer 2011. The group performed Shakespeare's The Winter's Tale and included participants from San Diego, CA, Los Angeles, CA, Mercer Island, WA, Chicago, IL, and London, Northumberland, and Hertfordshire, England.
Here are our photos, beneath which are some testimonials.
Click to Start Slideshow!
Testimonials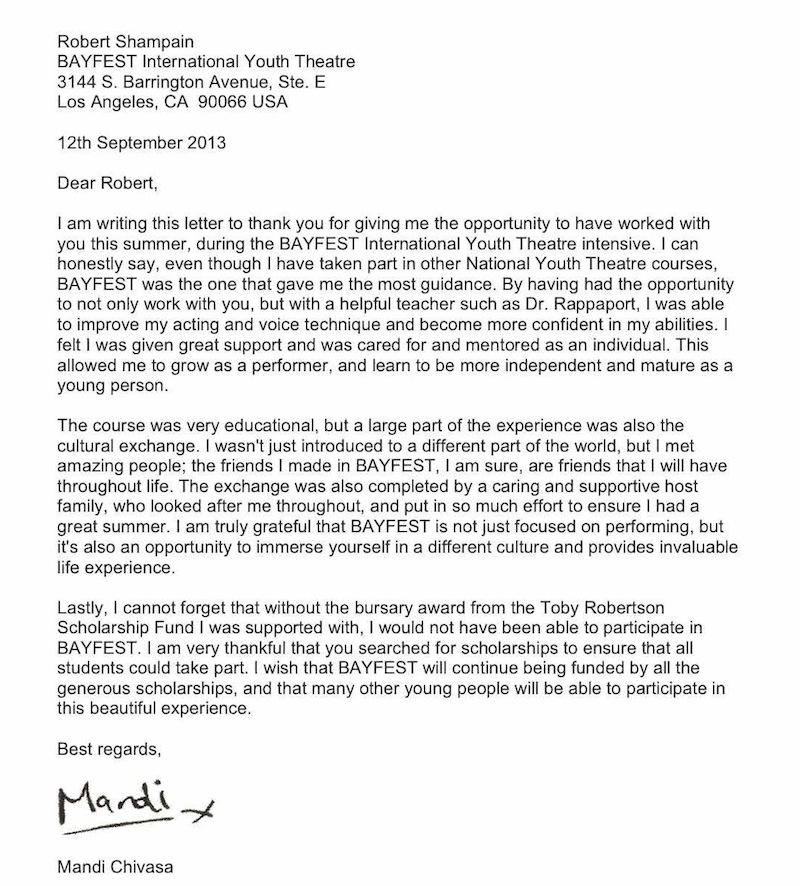 Thank you so much to everyone at BAYFEST for making this month truly spectacular! Can't thank you all enough for this amazing opportunity and I'm going to miss you all! X

Briony Laidler
Thank you so much for helping me at BAYFEST, and working with me! And although I know I can be challenging, I only do to those who I respect the most, although its not the best quality in me. I trust your advice and will use it in my life.

Tamir Pettet
I want to say that I have not had such a growing and loving experience (for years) …thank you for bringing so much joy and love back into my life again… we have formed some incredibly strong life long bonds in no small part due to the magic you put together.

Gilda Lugo (Parent and San Diego Host)
Hi Robert,

I just wanted to say thank you so much for every thing. Since I have been back to school I have gotten complements on how much better I have got since the last time anyone has seen me, I really get majority of them for my consonants 🙂 and I have no one but you, Reed and Dr. Rap to thank for that. Since I have left Bayfest I have auditioned for Chicago Youth Shakespeare Company and I got in! Which again would not have happen if it were not for all of you guys at Bayfest. You guys have provided with the best summer yet in my life and have also given me the chance to meet incredible people that I would never forget and will always keep close to my heart, and all of us still keep in touch with each other over the glorious Facebook :). Again thank you so much for everything you guys have taught me so much about theatre and life also.

Keep in touch, Taylor
Taylor Green
What an amazing experience Kai had. He can't stop talking about it. Thank you endlessly for including him.

Melinda Nugent (Parent, BAYFEST 2013)